This week we've got an extra special race recap lined up for you, because we've now got a World Champion at our Newark, DE store! Katrina Dowidchuk, one of our store associates, won the Womens 40-44 division race at the Masters Cyclocross World Championships in Louisville, KY. We recently caught up with Katrina to hear more about the race, her training, and her advice for those thinking about racing cross.
How long have you worked at Performance Bicycle?
Since August 2008, so almost 3.5 years.
How long have you been racing bikes and what's your current team?
I've been racing triathlons primarily since 2005. Then I started dabbling in road racing, endurance mountain biking and time trialing, but found the perfect fit with cyclocross in 2009. I currently race with Team TBB/Deep Blue which is a local team based out of Wilmington DE.
What was your first bike?
My mom bought me an upright pink bike with a banana seat and coaster brakes when I was about 8 years old. That thing was cool – racing up and down the driveway – I wasn't allowed on the road. My first upgrade was a giant orange flag that attached to the rear wheel. Then I didn't ride again until after college, to rehab a torn ACL , and now I have more bikes than I can count. You can never have too many. For cross, I ride the Fuji Altamira CX. It was a great upgrade this year.
What's your favorite part about racing cross?
Best thing about cross is that it's incredibly hard, but it's only 40 minutes! I give everything (I am not working hard enough if the drool isn't running down my face) – run up some steep muddy hills, leap over barriers – but you finish a race knowing that you got out of it what you put into it. Plus, the cross community in the Mid-Atlantic region is very supportive. You see the same people at every race, and it's so great to cheer for your buddies and have them scream for you.
Let's hear about the race – what was the course like?
Course was perfect cross conditions. I was lucky, it was frozen solid earlier in the morning, but my race was at 2pm, so it warmed to about 33 and sunny. That made it thick gooey mud almost everywhere, at times covering deep frozen ruts, with the steep short climbs becoming muddy frozen runs where it was difficult to get traction. Overall, one of the most challenging courses of the year because of the conditions.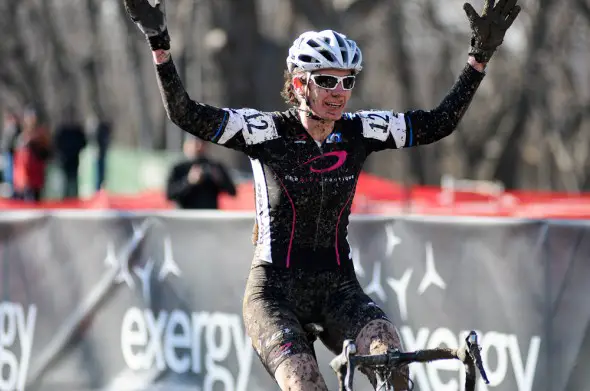 It sounds like you had raced against many of your fellow competitors before – did you have a set of race tactics in mind before the start? Did the race go as planned?
I raced some of them previously at the National Championships in Madison so I knew what I was up against. Louisville was different in that I really wanted to get out in front at the start. I figured if I got caught behind a crash that would be a deficit too much to recover from. So I gave it everything at the start – it was wild, as we turned the corner off the pavement, it was very slick and everyone went for what they thought was the best line. We were all over the place, you could feel racers sliding and swerving, but fortunately I was able to move up to about 2nd wheel. If I didn't get jammed early, I knew I could be competitive. This race, I also planned better knowing when to get off the bike and run versus attempting to power through a technical section – you can lose a lot of time making stupid decisions. And in Louisville, I made much better decisions – I pitted every half lap, which means swapping my heavy muddy bike for a clean one. I kept my outstanding pit crew very busy!
So what did it feel like to win a World Championship & pull on the rainbow stripes?
Coolest thing ever. Although it was so cold I was bundled up like the Stay-Puff Marshamallow man, and when they gave me the jersey I was sure it would not fit over my many layers of clothing. But then I did finally get it on, and they played the National Anthem and people were cheering – it was the greatest! I didn't take it off for at least another 6 hours.
How do you train for racing cross?
One of the great things about cross is you don't need hours and hours of training time. I try to simulate race conditions as much as possible. So I run stair repeats, get on the trainer and do sets of all-out max power for 30 seconds, with 30 seconds rest, and I do sessions of 2 minute race-simulation intervals where I practice starts, sprint, dismount and carry the bike, all at max effort. I don't do any long and slow riding during the season.
What's your best advice for someone who's thinking about racing cross?
Don't stress. There are a lot of local races that are age and skill-level graded – borrow a bike and just get out there and try it. Learn the basics, then laugh as you have to get over a barrier or run through the sand – I guarantee it will be the most fun you'll have in a race.