It's a new year and our stores have already been busy in their local communities – riding, racing and volunteering. With over 100 stores all across the country, we've got quite a few events and people to highlight from January, so read on below to see a sample of what they were up to last month. Remember to check out our local store pages for regularly scheduled Spin Doctor clinics & group rides.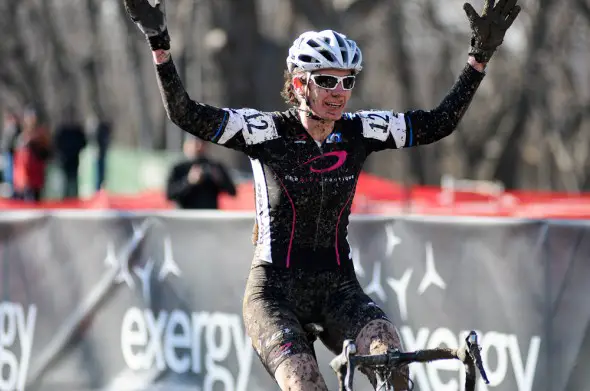 To start this month's recap, we thought we'd start by highlighting the new World Champion at our Newark, DE store! Katrina Dowidchuk, one of our store associates, won the Womens 40-44 division race at the Masters Cyclocross World Championships in Louisville, KY. We recently caught up with Katrina to hear more about the race, her training, and her advice for those thinking about racing cross. To read more, click here!
While we're talking racing, we want to congratulate Jon Chambers, a bike builder (on the left above) from our Allentown, PA store.  In the picture above, he's holding trophies for the winning the PA Track BAR (or "Best all around") stagiaire category and PA Track BAR Masters title. Jon also received 2 Silvers and a Bronze at Track Nationals this year, and won the 30-34 age group all around (you can tell he's fast by the blurry photo – he can't even hold still long enough for a camera!)
Sticking with our racing theme, a few of the associates from our Chandler, AZ store headed out to Fontana to race the Winter Series Downhill and Super D events.  Here's a shot of one of our tents set up as base camp at the race – Dennis from the Chandler store took 2nd in his Super D class (with a crash) and 27th in pro Downhill!
Performance Bicycle made the news in Texas, as Jeff, from our North Austin, TX store, and Shelly, from our South Austin store, were on the local Austin Live morning show talking trainers and indoor training.  What do you think – Jeff's got a future in TV if he ever gives up his bike gig!
Our Castleton, IN store was involved in a community event in Indianapolis, where they helped Brooksource with a team-building event where their employees built bikes for kids impacted by incarceration, in partnership with the U.S. Dream Academy. Our store manager, Tom, plus Jimmy and Brian, from our store team, helped supervise the build process and also donated a helmet for each of the kids who received bikes.
The Brooksource bike builders all had a great time and, considering the teams building each bike numbered about 6, they were surprisingly efficient at building! Our team completed the final bike safety checks just as the last helmet was being fitted.
Our guys helped build 13 bikes on site, had two pre-built, and got each kid fitted with their new helmets. The kids from the US Dream Academy were all surprised with their new bikes, and the build teams were just as thrilled to be able to present each kid with their new bike and helmet!
Associates from our Philadelphia, PA store participated in their local MLK Day of Service at Neighborhood Bike Works, a neighborhood bike co-op. Along with other volunteers, our 3 person team worked on projects to  renovate and organize the space.  They had a blast working with each other outside of their usual work environment, all while helping out a deserving non-profit.
Dennis and Adrian from our Chandler, AZ store, along with Adam from our Scottsdale store, broke out their work gloves last month to help Park Rangers with some trail-building on the South Mountain National Trail near Phoenix.
It always feels good to help out on trails that you love to ride, plus they got to work on a sweet rock garden (we're a sucker for rock gardens).
Here's a picture from our Pittsburgh, PA store last month as they hosted their local Major Taylor Club (Major Taylor was one of the first American cycling champions, on the track and in 6 day races). All members of the club needed to get certified on road safety as part of a national program, so we turned our virtual training area into a powerpoint display to help them out.
Our Akron, OH store played host to a younger crowd last month, as they hosted a local Cub Scout pack for a  clinic on basic bike knowledge taught by our Eagle Scout sales associate, Don. He taught them how to put the correct amount of air in the tires, how to clean a chain, and how to make sure that their brakes were working properly. Each scout left with a water bottle after answering a bike maintenance question!
Our Columbus, OH store held their own Cub Scout clinic in January as well, as a group of local scouts came by the shop. Our lead Spin Doctor, Mike, went over proper hand signals, tube/tire changes and basic maintenance to keep a bike in great shape. The scouts loved it and couldn't wait for their chance to be tested about basic mechanical problems.
Of course we also held clinics for the big kids out there, like this Basic Maintenance Clinic in our Oceanside, CA store. Remember you can always check on our site to see when the next free bike clinic is scheduled in your local Performance Bicycle Store.
Our Cincinnati, OH store helped out with a fundraiser put on by a local elementary PTO.  The carnival raised money for science and music programs at the school – our team at the event talked about bike safety and helmets while handing out water bottles to the hundreds of kids!
While the energy-filled youngsters spun their legs out on our kids bike display, we talked to parents about our Grow Up kids bike program. We had the opportunity to fit the kids on bikes, and we even got to give away 2 bikes to lucky raffle winners!
Finally, our stores have been holding indoor training classes, including our Novi, MI store. Above is a shot from their latest class – that's the daughter of one of our regular customers leading the pack! Below is a picture of the training group at our Tucson Speedway, AZ store.